Festival's Palkhi from various places
Being a spiritual country majority devotee of Lord Shri Lord Baba located in various cities considering the powerful temple in the world. Various devotees started offering their services to Lord Sai Baba in different forms. Some of them used to carry out Parayana one after another. Some offer Lord Sai Baba various types of food, cloth or some of them started reaching Shirdi by walking along with the Palkhi.
Since past few years groups of people started their services from Poona from Bombay and other cities to reach Shirdi before anyone of the mentioned festivals.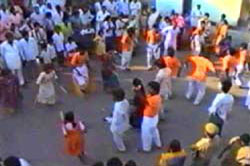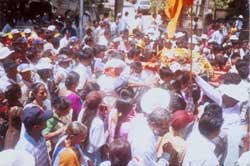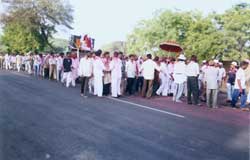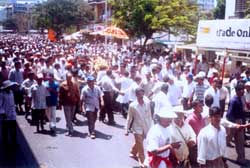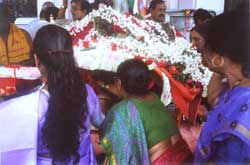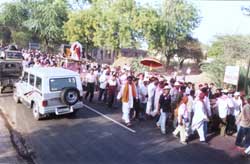 Generally it takes time to reach minimum 8 to 12 days depending on the capacity of the crowd. They cover the distance in different hours and take rest in different places or on a open land or in some temple. For instance Bombay's Shree Sai Sevak Mandal Palkhi (Palanquin) starts from Dadar along with Baba's portrait , Paduka (Wooden Slipper). They cover about 25 to 30 Km per day and reach Shirdi after nine days. During this procession the Mandal people daily carry out Baba's aarti. About at 5:30Am and 6:10Am they carry on a small aarti and accordingly all the other baba's aartis are undertaken daily. The pictures of Palkhi are following.
During the procession various devotees come across various experiences some see Lord Sai Baba by their own eyes , some feel that he walks along with them , Some of them also cured their old diseases, some of them have started getting indications. During ten days people suffer a lot due to hot weather and non-facility of regular activities but those who are determined to reach Shirdi by hook or crook they overcome all the problems and God guides them. Some of the photographs indicate how palkhi starts and how people reach.
---
Festivals (Miravnuk )
The block Diagram indicates the two different types of routes. These routes mainly is mainly is indicated as the "Pothi Parayan Route". The red arrow indicates the starting route (first day) and the green arrow indicates main day return route to Samadhi Mandir.
Generally three festivals are celebrated. They are Guru Pournima, Ramnavmi and Dasshera. All the three days, the first day of the festivals consisting of Pothi Parayan and evening pakhi on that day whole night the Dwarkamai is open. the second day indicates finishing Parayana and evening Rath-Yatra and the day whole night the Samadhi Mandir is open and on the third day the closing ceremony finishes with Dahi Handi.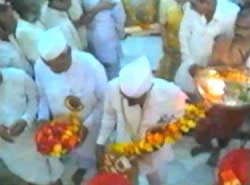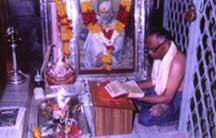 Reading of Satya Sai Charitya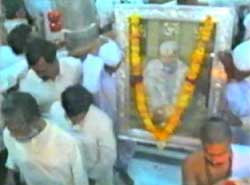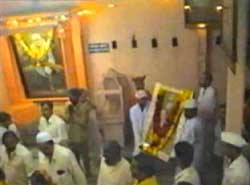 On the first day Baba's Pothi and photo, the procession starts from Samadhi Mandir after finishing Kakad aarti and reaches to Dwarkamai and carry out the aarti. About at 6'oclock Satya Sai Charitya starts reading. Then this Parayan continues whole night and every devotee reads one chapter. There are total 53 Chapters. Parayan gets over on the next day about at quarter to six and the photo of Shri Sai Baba and Sai Charaitya is carried out to the Samadhi Mandir through Gurusthan. Gurusthan also carries out small aarti. Then the same Pothi along with the devotees reaches to the Samadhi Mandir and starts Abhishek sanan. In the evening generally on the first day and the second day Palkhi/Rath starts at 9:15Pm from Dwarkamai along with Baba's Photo which is located in Chawdi along with Padhukas. The Palkhi goes inside the village where the villagers carry out puja and then reaches to Samadhi Mandir approximately at 11:00 to 11:30 and then Sej aarti takes Palces . On the second day aarti takes places,On the third day Kakad aarti doesn't take palce.
---
Festival Time Table
Information of Ratha(Chariot) & Palanquin Procession Year 2008,Shake
1929-1930
| No | Festival | Month & Tithi | Date | Ratha/ Palanquin | Time |
| --- | --- | --- | --- | --- | --- |
| 01. | Mahashivratri | Magh Kr. 14 | 06.03.2008 | Palanquin | 9.15 p.m. |
| 02. | Ranga Panchami | Falgun Kr. 5 | 27.03.2008 | Ratha | 5.00 p.m. |
| 03. | Gudhi Padwa | Chaitra Sh. 1 | 06.04.2008 | Ratha | 5.00 p.m. |
| 04. | Shri Ram Navami | Chaitra Sh. 7 | 12.04.2008 | Palanquin (First Day) | 9.15 p.m. |
| 05. | Shri Ram Navami | Chaitra Sh. 8/9 | 13.04.2008 | Ratha (Main Day) | 5.00 p.m. |
| 06. | Ashadhi Ekadashi | Ashadha Sh. 11/12 | 14.07.2008 | Palanquin | 9.15 p.m. |
| 07. | Shri Gurupournima | Ashadha Sh. 14 | 17.07.2008 | Palanquin (First Day) | 9.15 p.m. |
| 08. | Shri Gurupournima | Ashadha Sh. 15 | 18.07.2008 | Ratha (Main Day) | 9.15 p.m. |
| 09. | Gokul Ashtami | Sravan Kr. 7/8 | 23.08.2008 | -- | -- |
| 10. | Gopal- kala | Sravan Kr. 8 | 24.08.2008 | Ratha | 9.15 p.m. |
| 11. | Shri Sai Punyatithi | Ashwin Sh. 9 | 08.10.2008 | Palanquin (First Day) | 9.15 p.m. |
| 12. | Shri Sai Punyatithi | Ashwin Sh. 10 | 09.10.2008 | Ratha (Main Day) | 9.15 p.m. |
| 13. | Kartik Ekadashi | Kartik Sh. 11 | 09.11.2008 | Palanquin | 9.15 p.m. |
| 14. | Shri Datta Jayanti | Margashirsha Sh.14,15 | 12.12.2008 | Ratha | 9.15 p.m. |
| 15. | Gudhi Padwa | Chaitra Sh. 1 | 27.03.2009 | Ratha | 5.00 p.m. |
Download some of the clips of the Festivals
Clip1 Clip2 Clip3 Clip4