The Abhishek Pooja the timing is as below
1st Batch : 7.00 am to 8.00am
2nd Batch : 9.am to 10.00 am
3rd Batch : 12.30pm to 1.30 pm
Note: amount payable for Abhishek Pooja is Rs 101/- only
When Baba was alive
In the beginning Baba used to sit under Neem Tree which is now located in Gurusthan. He used to water the trees and flowers. He used to give UDHI (Holy ash) to needy people and recover their diseases. As years passed hundred and thousand devotees started streaming to Shirdi and a small village started changing into a holy pilgrim place.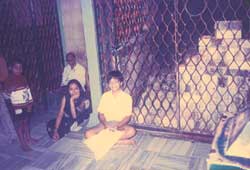 Bhiksha (Alms)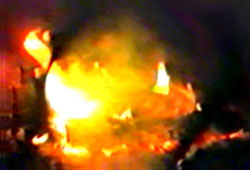 Baba was Cooking Food
Daily approximately at 7:30 a.m Baba used to go out to ask "Bhiksha" (Alms). Generally he used to visit only selected five houses. While going out for seeking "Bhiksha" Baba would fold a garment over his shoulders in the form of a bag which dangled below his left arm as shown in the picture and holder a tin mug in his other hand and he called out "Mother please give me roti" He used to receive all the types of food like milk, roti, vegetable, etc all mixed in the mug. After returning from Masjid he used to put small roti's and rice in the sacred fire and and rest of the food in a uncovered mud pot. He never kept any food stored for the next meal. There was no restriction for the cats, dogs or even the beggars for talking this free food from the pot. Baba never cared for the taste of the food while eating. Approximately at 9'oclock Baba used to go to stroll in Lendibaug, which is now known as "Nanda Deep" (sacred lamp). Baba's devotees offered him pots full of water and placed them near Baba. Then Baba would go on pouring water in various directions. What that and why Baba did that still remains a mystery.
Approximately at 10'oclock Baba used to return back to Dwarkamai during this time various devotees visited Dwarkamai to give various services to him some of his devotees started pressing his legs, offered garlands, worship, applied tilak on his forehead etc, many a times Baba used to demand Dakshina (monetary gift) from the devotees (because would like to remove their difficulties ). He used to offer blessings by removing diseases, giving rebirth or solving their problems of life.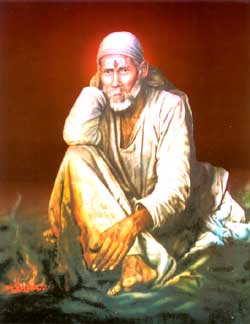 Apply it himself on their forehead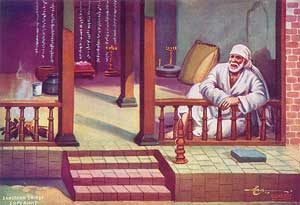 Baba used to sit on a sack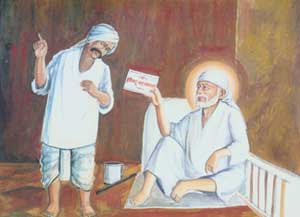 Baba inform the great devotee shyam "please read vishnu Sahsatranam daily" and that pothi handed over to him
Then approximately at 12'oclock Madhyan aarti (noon aarti) was performed. At the beginning Megha used to carry out aarti by standing on one leg after his death Bapusaheb Jog carried out the aarti. During this aarti Baba used to sit on a sack and cloth the floor near the pillar. During this aarti Baba's devotees used to offer Navedhya (offer food). After the aarti Babusaheb Jog distributed the barfi near the neem tree (Gurusthan) to all the devotees. Due to heavy Navedhya Baba used to just touch and returned them. After the aarti Baba used to give Udhi to devotees and used to apply it himself on their forehead . Baba had never taken lunch without "Bade Baba". Sometimes he mixed one share/portion milk, one share of sugar and one share of roti in a bowl and distributed as a prasad . After the lunch approximately at 2 p.m. Baba sometimes would be engaged in very strange majestic activities. He would take ten to fifteen old coins and start rubbing with fingers against the coins and used to mutter something like "this is Taytas and so on" as soon as somebody entered he used to put all the coins back in his pocket. Why he did this? Still remains a mystery. During his lifetime he had gone in Deep Samadhi for three days.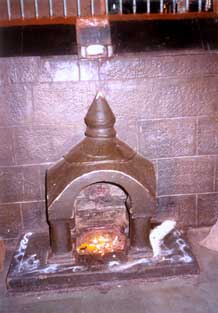 sometimes near outer wall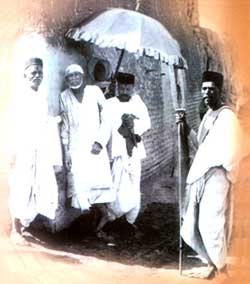 Babusaheb Dixit and Tatya Patil
Approximately at 3 p.m visitors started coming to Masjid, some of them use to carry out bhajans, kirtans and some came to solve their problems or to get rid from their sorrows and pains . In the evening Baba used to walk in the front yard of the masjid and stood sometimes near outer wall and used to chit-chat with the passengers or people passing by, then approximately at 5'oclock he again went to Lendibaugh along with Babusaheb Dixit and Tatya Patil and returned back to Dwarkamai. At the time of sunset Sajaarti (evening aarti) was carried out. After the aarti Baba used to offer Dakshina from Rs.4/- to Rs.55/-. Then he used to take dinner at 9 p.m.
On 10th October 1909, Baba started sleeping at chawdi and sejaarti started. He used to sleep at Chawdi along with number of white colored bedsheets one above the other and always kept a lamp burning near him. Before going to bed he used to inform Tatya Patil to go home and meantime please take care of me. In Dwarkamai sometimes Baba used to sleep on suspended plank approximately 7 to 8 feet above ground and about 1 to 2 feet below the roof, which was, tighten with a thin strip of cloth. This cloth was very thin it was difficult to hold the weight of the plank also. People wondered that how Baba used to climb and get down but no one were able to see Baba doing so. In dwarkamai their was a brick on which Baba used to take below his head, this brick was very dear to him and cried when it broke.
BABA spend his life throughout in shirdi. He never left shirdi during night time. Lots of people began to harres and were not ready to help him. After doing some miracles people began to harres and were not ready to help him. After doing some miracles people started worshiping him. But he always says "I am a servant of God". He solves the problems and give guidelines to whomsoever approaches to him, some of them are been given futrue guidelines by him. He has removed some of them from the mouth of death. He has given wealth, child, happiness, blessing, etc. During this time BABA had his important devotees like Sir Madhav Rao Deshpande, Mr. Tatya Patil kote, Dr. Pillay, Mr. Pilagi Gurav, Mr. Hari Sitaram Dixit, Mr. Anna Saheb Dobolkar, Mr. Dadasaheb Khaperde, Mr. Shagun Meru Nayeke, Mr. Babu Saheb Butte, Mr. Bahu Saheb Dhumal, Mr. Madhav Faslee, Mr. Babasaheb Dave Mamledar, Mrs. Radhakrishna Mike and Mr. Damu Anna Rasne.