Every Thursday at 9'oclock Baba's Palkhi starts along with the photo (Which is located at Chawdi along with Satka & Padhuka (Wooden slipper) Along with the procession the priest & some of the devotees walked in front of palkhi & carry out Bhajans. During this time different types of devotees pay their respect.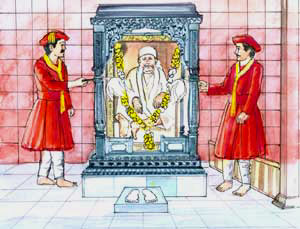 Aarti is carried out 9:15Pm
Aarti is carried out 9:15Pm. During this time for few minutes the sevakaris go inside the Dwarkamai (Where Baba usually is to sit) and two Sevekaris "Fan".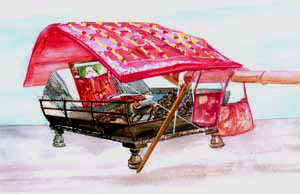 Baba's photo and Padhukas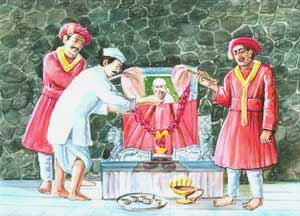 Chilim to Baba for smoking
After the aarti as over Baba's photo and Padhukas are kept inside the palkhi and the devotees carry the palkhi on their shoulders from Dwarkamai to Chawdi. This palkhi reaches at chawdi and Priest carry Shejaarti.During this Aarti Tatyabhai Patil used to offer chilim to Baba for smoking. After finishing the aarti's of Baba's Photo and padhukas are taken to the Samadhi Mandir as indicated by a (Green color arrow) in the diagram of Thursday Palkhi Route. In this diagram the starting route of palkhi is indicated by the red arrow, here 'S' indicates Samadhi Mandir, 'D' indicates Dwarkamai 'E' indicates Chawdi. After reaching the procession in the Samadhi Mandir Baba's photo is kept near the statue and sejaarti.
Generally about two thousand devotees to five thousand devotees observe these procession and try to serve Baba by way of preparation for Palkhi by spreading flowers inside the Palkhi, making garlands, carrying the palkhi on their shoulders, drawing rangoli in front of Chawdi etc.
Map